5-3

Name Wad- en Wierdenpad (LAW5-5)
Length of trail 123 km, 76 miles
Length in days 6 days
Start of trail Lauwersoog
End of trail Nieuweschans
Traildino grading LW, Light walk, countryside walk
LAW5-5, Wad- en Wierdenpad: Lauwersoog - Nieuweschans, 123 km
The northern part of the Netherlands is a product of the sea. Let's explain the name of this trail, Wad- en Wierdenpad. The "wad" is the marsh area between the Frisian Islands in the North and the mainland. The transition from water to land today is clearly defined by a huge, tight dyke. The path regularly runs on this dyke, and from it we conveniently look down on modern farmlands, a bit as if we were walking on a mountain ridge. Sharp as it is today, historically, this transition from sea to land was far from clear and in constant motion. At times the sea was calm and the people conquered land from the sea. But ever so often, the sea would turn wild, and take back what people had made.
A "wierde", or mound, is an artificial elevation in the country, where former residents built their homes, churches and monasteries, protected from rising seas. These mounds are still there, and our path leads us across.
In the little villages on our way, time has truly stood still. Not that we relive the Middle Ages, but on every street corner there's the déjà vu from our own childhood, when life was simple. Moreover, everyone will greet you with a goodmorning or a goodday!
The Wad- en Wierdenpad is the last stretch of the Dutch part of the North Sea Trail. At the border in Nieuweschans, the Germans take over on the E9, the Ems-Dollart Trail. But it is also possible to head south, and continue on the LAW10, the Noaberpad. (HN)
Rate 7.3 | 3 votes | No 12. in Netherlands
Rate 7
Positive

Nice & quiet, but enough people around to have excellent restaurants.
Joke ter Weele September 2009
Rate 7
Positive

Nice walking along the northern coast, open landscapes and views
Henk Nouws September 2009
Rate 8
Positive

Hiking on the dykes, the old villages with very small houses. Very quiet everywhere.

Negative

Roads.
More opinions…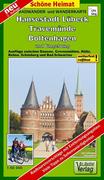 Ausflüge zwischen Dassow, Grevesmühlen, Klütz, Rehna, Schönberg und Bad Schwartau Schöne Heimat. Neuauflage, Laufzeit bis 2018.

Read more
Ausflüge zwischen Ostseebad Dierhagen, Saal, Marlow und Rövershagen Schöne Heimat. Neuauflage, Laufzeit bis 2018.

Read more
More maps…