E5

Name E5 (E5)
Length of trail 3,050 km, 1,895 miles
Length in days 150 days
Start of trail Point du Raz (F)
End of trail Verona (I)
Traildino grading LW, Light walk, countryside walk
Atlantic – Lake Constance – Alps – Adriatic
Leading west to east for 3050km, from Point du Raz in Brittany, France across Switzerland, Germany and Austria to end in Verona, Italy.
France
Switzerland
Entering from Germany at Schaffhausen
Joint track with E4, south of Bodensee
Austria
Start at Bodensee, Bregenz
First village is Bregenz, Bodensee, border with Switzerland
Bregenz – Hittisau / Hölfele Alm (Same as E4)
Last village is Hittisau / Hölfele Alm, border with Germany
Germany
First village is Staufner Haus am Hochgrat
Staufner Haus – Oberstdorf
Border with Austria in Allgäuer Alps
Austria
Entering Austria again
Own tracé (Allgäuer Alpen, Lechtaler Alpen, Pitztal, Ötztal)
Last village is St. Leonhard, border with Italy
Italy
- Der gesamte Fernwanderweg E5 von der Atlantikküste der Bretagne bis Verona ist 3200 km lang. - Die Strecke vom Bodensee über die Alpen nach Verona führt durch Deutschland, Österreich, die Schweiz undItalien und ist 600 km lang. - Die Strecke ist einer der ältesten Fernwanderwege Europas und verläuft auf Trassen, die immer schon...

Read more
More maps…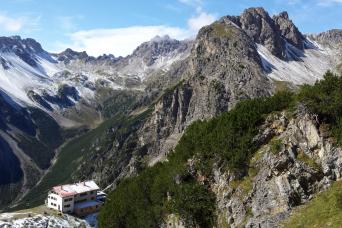 Macs Adventure
United Kingdom
Self guided walking tour on the E5 Alpine crossing from Oberstdorf to Meran. Take on the famous E5 Alpine crossing from Germany, through Austria and finishing in Italy's South Tyrol. This classic inn to inn route is long-distance trekking at its best and is a must for Alpine fans. Hike from mountain pass to mountain pass, taking in the scenery...

Read more
More walking holidays…
gianluca 2018-06-06 18:02:35

Opposite direction

Hi, do you think is possible to hike the trail from verona to france?
Fred 2014-11-12 18:31:48

E5-Meran-Verona, gps-track

Hej,

Ik ben op zoek naar een bruikbare gps-track van de E5 tussen Meran en Verona.
De tracks van Rother gaan niet verder dan Bozen.
Hoop dat iemand mij kan helpen.
Alvast bedankt.
groet,

Fred
More questions…